Blog Archives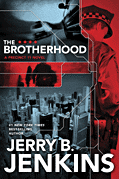 I started this book and could not put it down until I was finished.  It draws you in with the story of a successful young man who is living the life he's always planned -the career, the wife, the kid, the house…until tragedy strikes. I've read some of Jerry B. Jenkins other books, but it was something about this one that reverberated deep in my soul.
Now, I'm not usually an emotional person, but the climax of the book made me flat out heave with sobs. You might not think that's a good thing, but not only is it good to cry, but it lets you know some things about yourself that you may not have realized. The life lessons for me was three-fold. 
Life is precious, so value every moment spent with your loved ones, especially those you live with. 
Success in our own eyes pales in comparison to that of the Father. (He knows the thoughts He thinks towards you, thoughts of good, not of evil, to bring you to an expected end ~Jeremiah 29:11)
We can have no other gods before Him, so be careful who you give your worship and adoration. Our spouse and children can quickly become idols IF we are not committed to Christ. This is true whether you are a new believer or have been going to church since you were a child.
We never know when tragedy is going to strike in our lives, but regardless what we go through, God can turn it around for our good.  I want to emphasize that God is not the author of confusion, but He does allow our choices to ultimately bring us closer to Him.
Restoration is the underlying theme in this book. Whether you are familiar with law enforcement, gang wars, or any other type of criminal activity, this novel offers a refreshing look at God revealing Himself to His children. As the end draws near, you begin to see that God really does offer us second chances to get it right. In all truth, it's a fulfillment of Proverbs 22:6 "Train up a child in the way he should go, and when he is old, he will not depart from it".
  You may know the author from the famous Left Behind series novels.  This book is the first in Jerry B. Jenkins new police trilogy.  It's a great reminder of the cost of sin, but the greater cost that Christ paid to take away our sins. I can't wait to read the next in the series from this very gifted evangelistic novelist. I liked this book so much, that I'm giving one away.  Be the first to comment on this review if you want to receive a gift certificate to receive your own copy of The Brotherhood: A Precinct 11 Novel.
I received a complimentary copy of this book for review purposes from Tyndale House. A positive review was not required and the opinions expressed here is strictly my own views of the book. Please visit www.tyndale.com for more information on this book or author.